A propos de l'auteur Blues Incroyable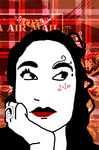 Email : Contactez-moi
Site Web : http://starring-at-the-world.blogpsot.com

Quelques mots sur moi
Poète, Étudiante en graphisme
"we must become the change we want to see in the world" Gandhi
Mes centres d'intérêt
Art, Littérature, Philosophie, Théâtre, Musique, Apple, politique internationale... j'aime aussi : Ben & Jerry's, Calder, le Caravage, les chats, Chirico, le chocolat, Dada, les friches industrielles, Gaudi, Kofi Annan, Christian Lacroix, Magritte, Matisse, la mer, Miro, Mucha, les orages, les Papous dans la tête, les mouettes, Plantu, Salvador Dali, Van Gogh
Mes films préférés
Métropolis, Alphaville, V for Vendetta, La Chute, Le Vent se lève, Au nom du père, Les Monty Python, les Myazaki, les Pixar, les Disney, etc. etc. etc.
Mes musiques préférées
Rock, Jazz, Flamenco c'est à dire : U2, Green Day, Linkin Park, Miles Davis, Jeanne Plante, Boris Vian, The clash, Coldplay, Pink Floyd, Eric Fernandez, Sinatra, Manu Chao, Marc Havet, The Rolling Stones, The Who, etc.
Mes livres préférés
Tzara, Les Papous, les livres d'art, les découvertes gallimard, Garcia Lorca, Orwell, Beckett, Blatny, Camus, Césaire, Dante, Ionesco, Racine, Art Spiegelman, Vinyoli